Create an agile sales organization with launch initiatives that work.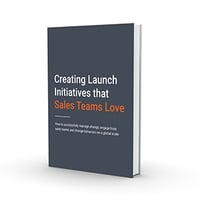 Make your next change initiative a success!
New product launch
New sales messaging
New sales processes
Mergers & Acquisitions
Sales kick-off
When you need to change the way your company communicates with the market, you need to engage and influence behavior change in busy sales teams fast. How do some of the most influential companies go-to-market, transform sales processes, and execute sales kick-off successfully? With well-planned launch initiatives that work.
Download Creating Launch Initiatives that Sales Teams Love and learn how to
Align sales and enablement organizations
Identify different launch types and when you need a launch plan
Use a proven Launch Blueprint to engage stakeholders and plan for success
Measure launch success and improve future initiatives