Transform your sales management processes without skipping a beat.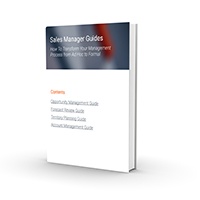 A great sales manager is worth up to $3.5 million per year more than poor performing peers. But great sales management can be developed through training, practice, and patience.
Download this comprehensive sales manager guide to help you and your sales team formally manage processes that are critical to attaining growth goals.
This sales manager guide helps formalize sales managers' key processes by providing step-by-step direction on:
Opportunity Management: qualifying & executing multi-stage sales cycles
Forecast Reviews: producing an accurate & reliable forecast
Territory Planning: building & executing a territory action plan
Account Management: retaining & growing key accounts strategically
About CommercialTribe
CommercialTribe has helped sales teams in companies such as Hubspot, LinkedIn, Grainger, and NVIDIA align messaging, reduce onboarding time, go-to-market, develop effective sales teams, and more.